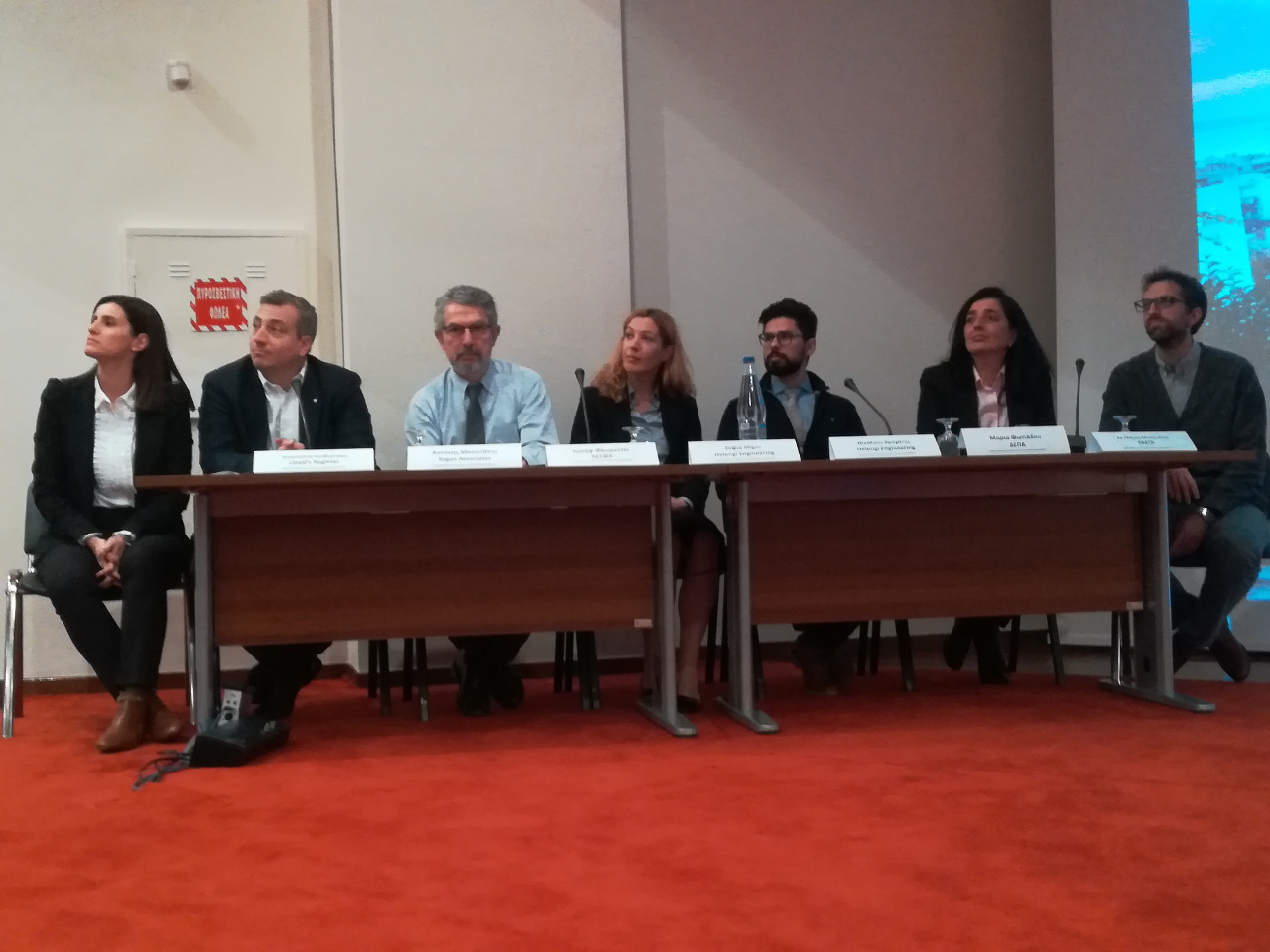 PRESS RELEASE
Shaping the framework for LNG as a marine fuel in the Eastern Mediterranean
A Poseidon Med II event at the University of Patras on December 7 th , 2018
The use of Liquid Natural Gas (hereinafter referred to as LNG) as a safe and eco-friendly fuel for maritime transportation was the subject of the Half Day Awareness event, which took place at the Conference Centre of the University of Patras on the 7th December 2018. The event was organized with the support from the University of Patras. Registered attendees reached the number of 154, validating the strong interest from the academic community initially expressed.
Students that sat throughout the three hour presentations had the chance to learn about the characteristics and properties of LNG, its merit as an environmentally friendly fuel, as one of the alternatives to conventional marine fuels. The audience has also had the chance to be guided through the Projects main activities and milestones achieved to date, and thus get familiar with the safety and commercial aspects of LNG in the maritime sector. Overall, the elements of an LNG efficient supply chain were unlocked and future steps in building a solid infrastructure were presented.
The event commenced with the first speech by Professor D. Margaris who is heading the Fluid Mechanics Laboratory at the Department of Mechanical Engineering and Aeronautics, School of Engineering, University of Patras. The professor presented the characteristics of NG, its transportation routes and the roadmap for its wider adoption in Greece.
The architecture behind small scale LNG infrastructure (M. Fotiadou/ DEPA), the capabilities of the LNG Terminal Station in Revithoussa (J. Florentin/ DESFA), the results of air pollution studies at ports (K. Sfetsioris/ CERTH), the regulatory framework for the supply of LNG to vessels (A. Kouvertari/ LR), the outcome of ports' studies, relating to risk assessment and the permitting process (A. Boutatis/ ROGAN), vessels LNG retrofit designs (S. Michos & N. Vrachatis/ HELENGI); were topics that were touched upon by each Poseidon Med II Partner.
The event was concluded with a Q&A session, where the panel of Speakers conveyed a positive message that LNG has indeed a strong share in the alternative fuels market that is now coming into life; being competitive in price as well as providing environmental and social tangible results to the local community.
What is Poseidon Med II project?
Poseidon Med II project is a practical roadmap which aims to bring about the wide adoption of LNG as a safe, environmentally efficient and viable alternative fuel for shipping and help the East Mediterranean marine transportation propel towards a low-carbon future. The project, which is co-funded by the European Union, involves three countries Greece, Italy and Cyprus, six European ports (Piraeus, Patras, Lemesos, Venice, Heraklion, Igoumenitsa) as well as the Revithoussa LNG terminal. The project brings together top experts from the marine, energy and financial sectors to design an integrated LNG value chain and establish a well-functioning and sustainable LNG market.
The sole responsibility of this publication lies with the author. The European Union is not responsible for any use that may be made of the information contained therein.
Photo Captions
Snapshot from the panel; Boutatis (ROGAN), Fotiadou (ΔΕΠΑ), Florentin (ΔΕΣΦΑ), Kouvertari (LR), Sfetsioris (CERTH), Michos (Helengi), Vrachatis (Helengi)
Prof. Dionysios Margaris, Head of Fluid Mechanics Laboratory at the Department of Mechanical Engineering and Aeronautics, School of Engineering, University of Patras; Poseidon Med II, event 07/12/2018
Anastasia Kouvertari, Project Manager for 'CYnergy' for Lloyd's Register, Poseidon Med II, event 07/12/2018
Nikolaos Vrachatis, Chemical Engineer, Helengi Engineering, Poseidon Med II, event 07/12/2018
Sofia Michos, EU Projects Coordinator, Helengi Engineering, Poseidon Med II, event 07/12/2018
Antonis Boutatis, Partner Rogan Associates Α.Ε, Poseidon Med II, event 07/12/2018
J.Florentin, PMII Project Manager & Business Development Department Manager of DESFA (Technical Coordinator of PMII), Poseidon Med II, event 07/12/2018
Maria Fotiadou, Corporate Development Activities Division Head, DEPA S.A, Poseidon Med II, event 07/12/2018
Konstantinos Sfetsioris, Research Associate, CERTH, Poseidon Med II, event 07/12/2018
Snapshot from the venue at the University of Patras
Presentations of the conference are available here

For Media enquiries please contact:
Hellenic Lloyd's S.A.
Georgia Kalaitzaki
Projects Dissemination Administrator, Marine & Offshore
Email: georgia.kalaitzaki@lr.org
Tel: +30 210 4580802
Follow Poseidon Med II on:
Twitter: @Poseidon_Med
LinkedIN: https://www.linkedin.com/company-beta/17979123/
Facebook: @PoseidonMedII

---
The sole responsibility for the content of this webpage lies with the authors. It does not represent the opinion of the European Communities. The European Commission is not responsible for any use that may be made of the information contained therein.

Website Privacy Policy